Evaporative Cooling Systems
Refrigeration in the simplest terms is cooling by removing heat. Heat rejection equipment is a key component of any refrigeration system. With more than 50 years of experience, we offer cooling solutions to a multitude of sectors together with the widest range of products in the market. Our constant commitment to R&D, enable us to offer the best solution for each industry requirement. Our cooling solutions are designed and manufactured under the most stringent quality standards and procedures with highly reliable and proven performance levels.
---
Cooling solutions
Dry air coolers
Adiabatic systems
Evaporative condensers
Open cooling towers
Closed cooling towers
Our dry air coolers are designed to offer equipment with reduced maintenance and long service life. Each dry air cooler series presents different types of work; impulsion, suction, horizontal coils, or V shape. All of them are equipped with finned heat exchange coils and casing constructed from profiles and sheets of 2-3 mm thick galvanized steel for robustness.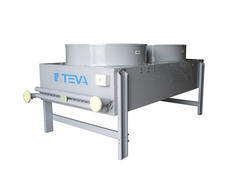 ADA series dry air cooler range is mainly designed on the basis of the needs and work conditions in the industrial sector. The key features are large-diameter coil pipes, high thickness fins, a large distance between fins in conjunction with less quantity of fans, a bigger diameter (1300 and 1700 mm) fans, directly coupled to motors with IP 55 protection.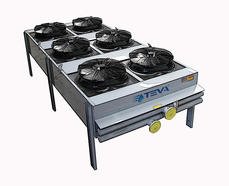 AER series dry air cooler range offers small capacities of heat dissipation, up to 840 kW. The AER series features 27 models of dry coolers with small diameter and external rotor fan. The set of the motor, fan, and fan stack form a single piece that offers significantly reduced noise levels.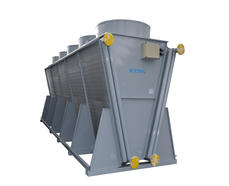 The modular design of the AVS allows you to offer devices with exchange coils up to 9 meters and fans of large diameter made in PPG (polypropylene with fiberglass) resistant to any type of air pollution. The electric motors where the fans are directly coupled are of closed type with protection IP55 bringing significant extra protection to any fault in the motor/fan.
Adiabatic systems achieve temperatures lower than traditional dry air coolers. Our adiabatic systems are exempt from the water treatment systems and laws relating to legionella, while it gets an energy efficiency closer to a cooling tower than a dry cooler.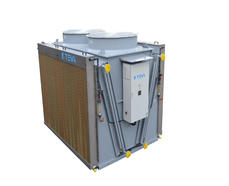 The compact units of AVA series, ships fully assembled reducing installation costs on-site, are free of Physico-chemical water treatments and obligations arising out of the enforcement of laws relating to legionella.
The AVA series adiabatic coolers offer heat dissipation up to 1.722 kW in a single unit, improving the electrical consumption of the conventional dry coolers and approach to the condensing temperatures and optimal values of efficiency of cooling towers.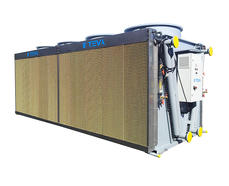 The AVA-C series adiabatic coolers offer a solution for ammonia refrigeration installations. The adiabatic coolers are equipped with two exchanger coils made with stainless steel tubes, allows heat dissipation up to 1.722 kW in a single unit, improving the electrical consumption of the conventional dry coolers, and approaching to the condensing temperatures and optimal values of efficiency of evaporative condensers.
Energy efficiency in refrigeration plants, especially in the ones of considerable size, will not be understood without the evaporative condensers. By its own principle of operation, evaporative cooling achieved condensation temperatures lowers than with the rest of the condensation systems. As in all our evaporative cooling equipment, we offer the widest range of construction versions in terms of materials manufacturing and geometry of the fan.
Open circuit towers are the most economical and energy-efficient as there is direct contact between the cooling water and air that passes through the heat exchange filling. The Open-circuit cooling tower range is manufactured in galvanized steel or Glass Reinforced Polyester for corrosion resistance. Both versions are fitted with axial or centrifugal fans according to the needs or requirements of the installation.
Cooling towers where the fill has been replaced by a coil of smooth tubes, through which to be cooled process fluid is circulated. A second circuit, assisted by a small pump, built-in to the unit, collects water from the tower basin and distributes it over the coil. Being a closed-circuit cooling tower, the process fluid to cool will not come in contact with the air. Closed-circuit cooling towers are made in steel, Glass Reinforced Polyester, and axial or centrifugal versions.